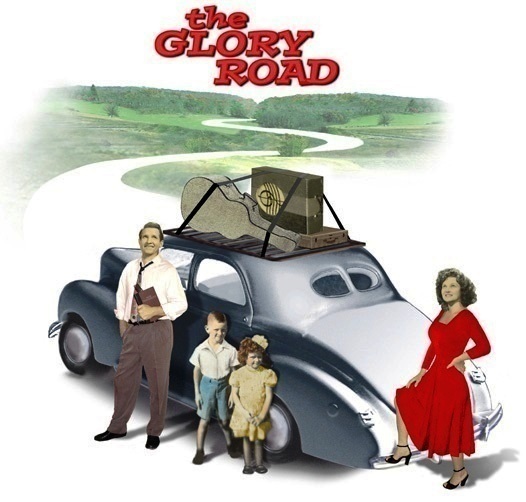 Lobby poster from the stage play
"The Glory Road"
which preceded the book

Some stories need to get up off the page and walk around and talk and sing. That's how "The Glory Road" began. I wrote about my family's touring life in the 1950s and an agent thought they belonged onstage. With the help of dedicated producers, directors and actors, singers and musicians, we put on a show and invited industry audiences to staged readings to watch and advise.
Country preacher loves a honky-tonk singer
We put Brother Ray's and Sister Fern's Saturday night and Sunday morning love affair onstage along with their conflicts, his calling to preach and her need to perform. We explored the discontent of the youngest Joneses, the two unwilling harmony singers in the back seat of the old sedan crisscrossing the South on Route 66.
Our onstage Southern Gospel quartet was dazzling and our competing preachers greased their pompadours to new heights and took us right up to the edge of televangelism. There are behind-the-scenes stories about how songs got made, how Fern promised Ray she'd sing only "the Lord's music." She was meant to settle into being a pastor's wife but she secretly sent off tapes of the songs she wrote in the 1950s. She hoped recording artists and labels would find a place for them.
Ray and Fern eventually merged their faith-versus-ambition push and pull and contributed to the cultural transition that turned religion into entertainment. There are stops at All Day Singings, greeting the fans then moving on to the next performance. There are two little kids sitting in the front row in country churches while Daddy answered his call to preach then packing for another tour so Mother could answer her call to sing her songs.

Fern's mother, Gramma K disapproves of the way the kids are being rased. She fills the children's heads with stories about their parents, some of them true. While Brother Ray preaches faith healing only, the family isn't allowed medical care. His son pushes back, his anger fueling a rebellion that splits the family apart.
By the end of the 50s, Fern won her recording contract in Hollywood and the family moved to California. She returned to Nashville to record with Elvis' backing band and a gospel quartet but on her return to California she fought with the president of the label and the album she's holding in the picture below wasn't widely distributed.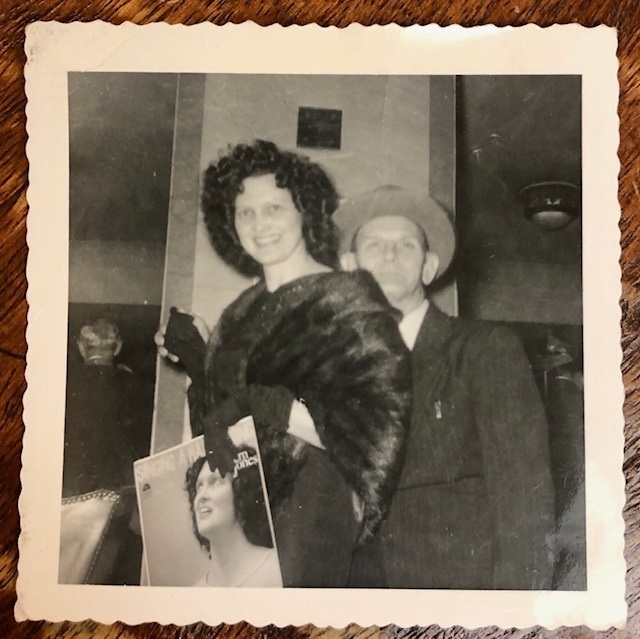 By the end of the 1950s
Fern got her mink stole and her obligatory pink Cadillac.
She took her album to Nashville and met some fans.


The Joneses music was re-mastered and released by Numero Group as "Fern Jones, The Glory Road" to great reviews. NPR praised it. Oxford American called Fern a "Southern Master." Tom Moon included Fern in his book "1,000 Recordings To Hear Before You Die."
Today their music is played everywhere. They're heard in movies and on TV shows. Listeners download their country/gospel-to-rockabilly sound. There's a new and perfectly retro vinyl version. The songs Fern wrote are recorded by many artists. Fern's song that Johnny Cash recorded, "I Was There When It Happened," is in the movie, "Walk The Line."
I finished the book I'd started before the play and it was published in 2021. I'd meant to write a memoir but these people make it feel more like a novel. The beautiful "Ken Burns' Country Music" series written by Dayton Duncan for PBS reminds us of the circles within circles that make up the history of American roots music. I hope my book helps place The Joneses within those circles.
Reviewers reading "The Glory Road, a Gospel Gypsy Life" commented, "This should be a movie" and "I could see this onstage." Our director is working on a new stage version. Check the "Onstage" heading above to see where we go from here. Meanwhile, there are more stories to tell and I'm making progress on a new book.
***To hear music from Ray and Fern,
click "Media" from the menu at the top of the page.***